Treatments
Six Month Smiles in Wickford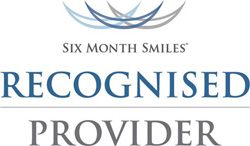 Wickford Dental Health Centre is a specialist provider of the Six Month Smiles® treatment programme.
Six Month Smiles® is a revolutionary orthodontic system that provides a fast and economical way for adults to get straight teeth. Regardless of age or gender, EVERYONE should be able to smile with confidence!
Six Month Smiles® utilises specialised clear braces to gently straighten and align teeth in an average time of just six months. Actress Kara Tointon has recently completed the Six Month Smiles® treatment at our dental practice and is delighted with the results.
When your teeth are beautifully aligned, our dentists recommend our tooth-whitening system, giving you the perfect cosmetic finish – straight, white teeth!
Six Month Smiles has taken the best aspects of braces and modified the treatment and the materials to give adults a common-sense, cosmetic solution that fits your lifestyle. Here is what makes Six Month Smiles so innovative:
Average treatment times of only six months
Six Month Smiles Lucid-Lok™ clear brackets and tooth-colored wires are barely visible
Six Month Smiles Patient Tray Kits™ ensure that your appointments are fast and comfortable
Low forces and short overall treatment times increase comfort, safety, and hygiene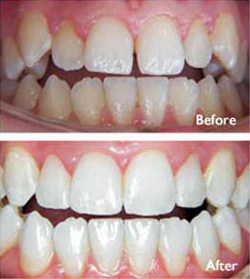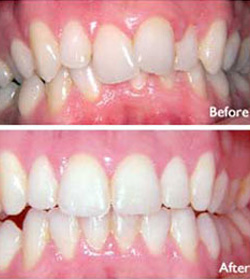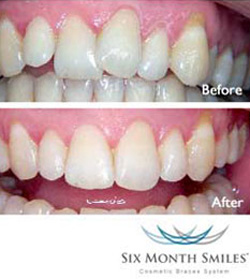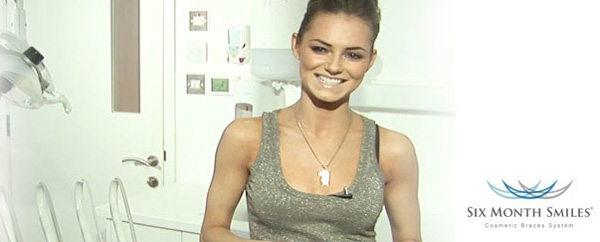 Frequently Asked Questions
Q. What do Six Month Smiles braces and wires look like?
A. Six Month Smiles braces and wires are barely noticable – they blend very well with the colour of your teeth. These are not metal braces!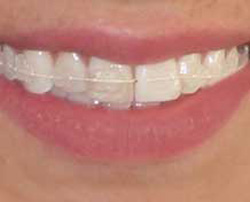 Q. How can the Six Month Smiles system straighten teeth in only 6 months?
A. The Six Month Smiles system employs new and specific orthodontic technology that provides for safe, comfortable and efficient tooth movement. Additionally, the aim of the Six Month Smiles is to correct the items that you are unhappy with and not make time consuming changes to the way your back teeth bite together.
Q. Is the process uncomfortable?
A. Six Month Smiles involves light forces to gently move your teeth to their new position. The process is comfortable. The short treatment times are not achieved by using high forces on the teeth.
Q. Will I have to wear a retainer?
A. Yes, as with all orthodontic treatment, a retainer is necessary to maintain the straighter position of your teeth. If you don't want to wear a removable retainer, you can have a bonded retainer placed behind your teeth. There are a variety of options that you can choose from according to your personal preference and situation.
Q. Can anyone use this system?
A. If you are an adult (15 years and older) with crooked or spaced teeth and you're not looking for a major alteration to your bite, this is a fantastic option for you.
Q. Does everyone finish treatment in 6 months?
A. Six months is the average treatment time. Most patients finish right around six months, but treatment times may range from 4 to 9 months.