Treatments
Dental Implants in Wickford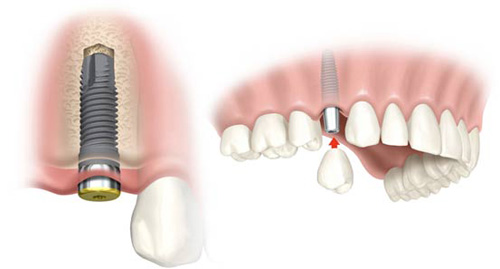 What are Dental Implants?
Dental Implants are the most robust and proven method of replacing a missing tooth, or to improve the stability of dentures. The Implant consists of a tooth root made of titanium which is set into the gum, the new tooth or crown is then placed on top of it and matched with your other teeth to fix the gap in your smile.
Are Dental Implants the right choice for me?
Only your dentist can really decide if Dental Implants are the best choice for you, after a full assessment and evaluation of your mouth and smile. But, if you are missing a single tooth, multiple teeth, or would like to secure your dentures then Dental Implants could be the best option for you.
All on 4®, Teeth in a Day
We are a leading dental practice in providing teeth in one day (Nobel Biocare All-on-4®). These are permanent, non-removable bridges that are fitted on implants all in just one day!
Are you having trouble chewing and eating your favourite foods? Are you embarrassed about your smile and fed up with traditional dentures?
Imagine getting completely secure, stable teeth in just one day.
Teeth in a day (also known as All-on-4® Implant Supported Bridges) is a revolutionary new dental implant treatment for patients that are missing all their natural teeth, and who are tired of wearing traditional dentures and also for those loosing their teeth. This new one-day dental implant treatment avoids the need for multiple dental visits, lengthy surgical procedures, long recovery times and the use of temporary dentures.
Teeth-in-a-Day is the ultimate dental implant solution for denture wearers. Teeth-in-a-Day is exactly as the name describes: permanent, non-removable teeth in just one day. This innovative solution is made possible through the use of a technology called All-on-4®, a condensed simplified treatment that provides:
Permanent, non-removable teeth (imagine never taking your teeth out again)
Predictable Aesthetics (beautiful looking teeth)
Full and Immediate Functionality (eat whatever you want from day one)
Without the need for bone-grafting in most cases
All In One Day!
The All-on-4® technique allows for the placement of a complete arch of permanent teeth on just four dental implants. Natural looking implants boost self confidence and give a cosmetically pleasing appearance to teeth structure. You can also eat all your favourite foods once more.
You do not need to wear your ill-fitting denture for any longer. No need for sticky pastes and adhesives and no need to wait to have a beautiful new smile. If you have a special occasion coming up and want to regain your confident smile, we can now give you fixed teeth in just one single visit.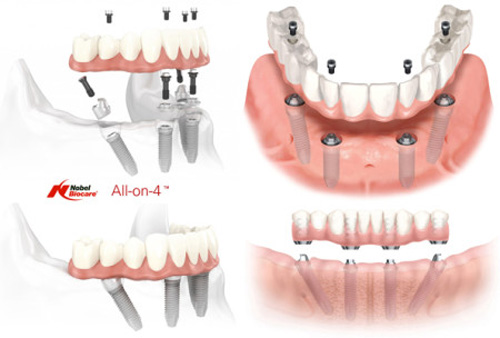 How does it work?
For our Teeth-in-a-Day treatment you come into our practice in the morning. You are given some sedation to help you relax and remain completely comfortable. Dental implants are placed and impressions are taken for our in-house laboratory to make your new teeth. You leave that same afternoon with a brand new set of fixed-in, beautiful teeth with no palate and no denture. We then see you for review appointments over the next few months. A final set of teeth will be made after about 6 months, once you are happy with the aesthetics of your new teeth.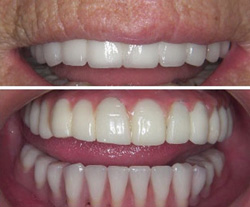 Benefits of Dental Implants
Improves the patients' ability to Smile, Chew and Speak
By securing the dentures in the mouth and fixing the gaps in between the teeth, Many patients maintain that this improvement drastically increases their overall confidence in everyday life.
Dental implant restorations Look, Feel and Act like Natural Teeth
Once the titanium dental implant is placed in the jaw it is covered by either a porcelain or porcelain fused to metal crown, bridge or dentures consisting of an acrylic base and plastic or porcelain teeth and are made to match your existing teeth.
Implants are totally Secure and Stable as they are Anchored into the Jaw
Unlike conventional bridges which involve tooth preparation dental implants are not supported by adjacent teeth. therefore there is no risk of damaging or affecting the structure of existing teeth.
Dental Implants require No Special Maintenance
We generally recommend that you maintain good oral hygiene with brushing and flossing and routine check-ups and hygienist visits every 6 months.
Restore and Enhance Facial Contours
When people have missing teeth or gaps in their smile it can throw off the alignment of the mouth and facial shape, this can be rectified by using Dental Implants.
Sinus Lift / Augmentation
A sinus lift is surgery that adds bone to your upper jaw in the area of your molars and premolars. It's sometimes called a sinus augmentation. The bone is added between your jaw and the maxillary sinuses, which are on either side of your nose. To make room for the bone, the sinus membrane has to be moved upward, or "lifted." A sinus lift usually is done by a specialist. This could be either an oral and maxillofacial surgeon or a periodontist.
What is a Sinus Lift used for?
A sinus lift is done when there is not enough bone height in the upper jaw, or the sinuses are too close to the jaw, for dental implants to be placed. There are several reasons for this:
Many people who have lost teeth in their upper jaw — particularly the back teeth, or molars — do not have enough bone for implants to be placed. Because of the anatomy of the skull, the back of the upper jaw has less bone than the lower jaw.
Bone may have been lost because of periodontal (gum) disease.
Tooth loss may have led to a loss of bone as well. Once teeth are gone, bone begins to be resorbed (absorbed back into the body). If teeth have been missing for a long time, there often is not enough bone left to place implants.
Tooth loss may have led to a loss of bone as well. Once teeth are gone, bone begins to be resorbed (absorbed back into the body). If teeth have been missing for a long time, there often is not enough bone left to place implants.
The maxillary sinus may be too close to the upper jaw for implants to be placed. The shape and the size of this sinus varies from person to person. The sinus also can get larger as you age.
Sinus lifts have become common during the last 15 years as more people get dental implants to replace missing teeth.